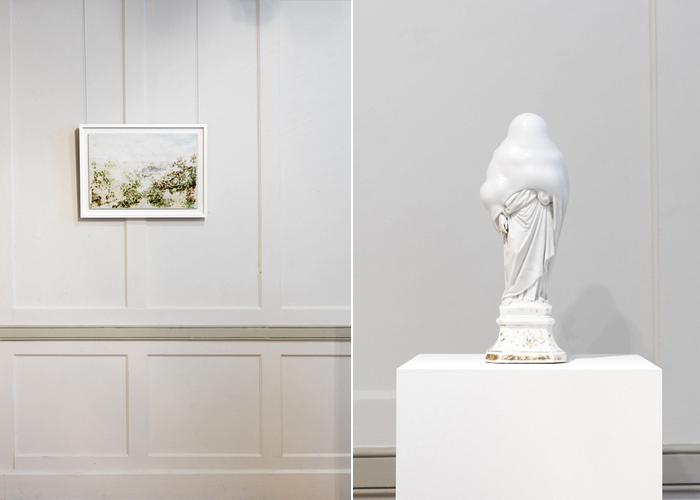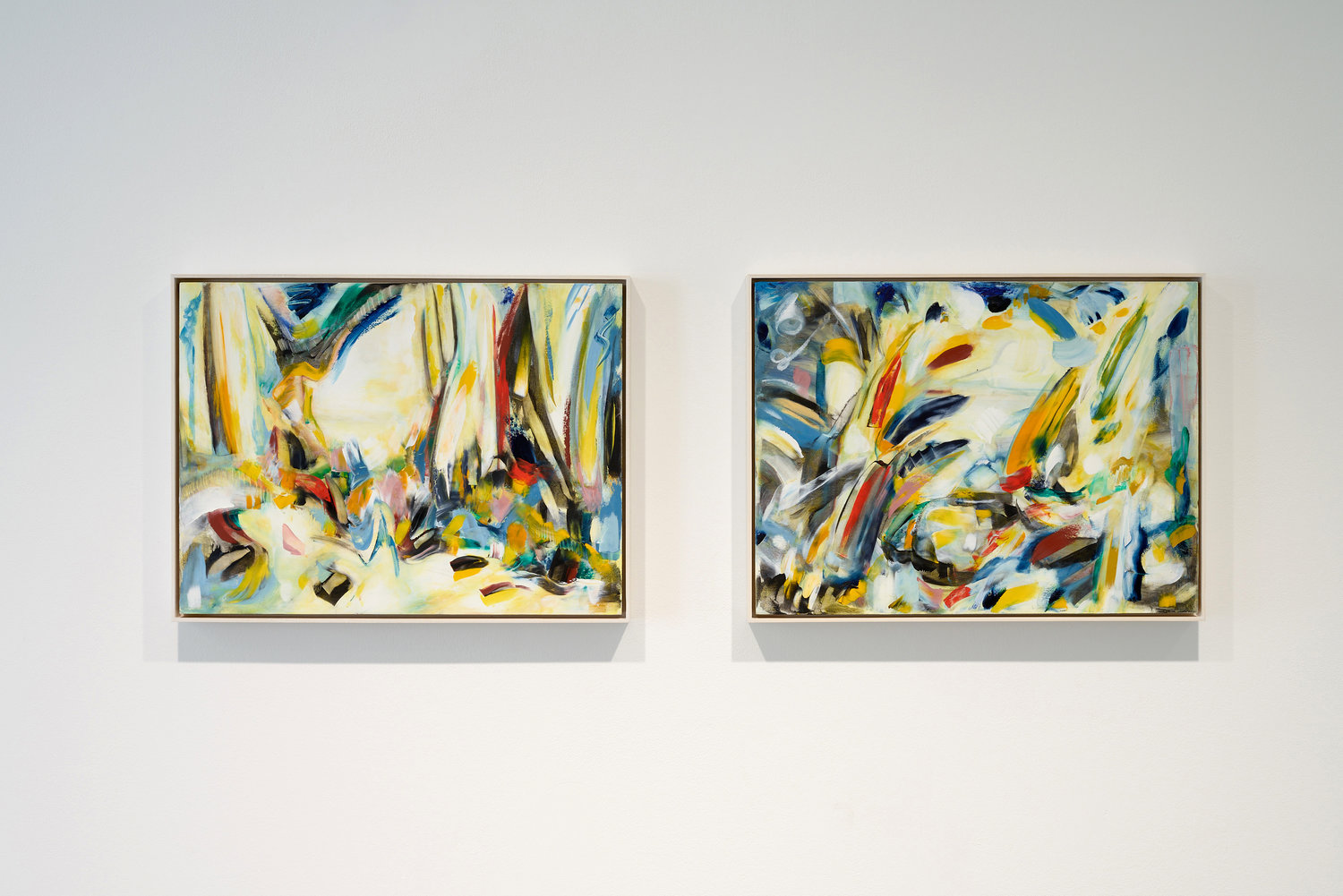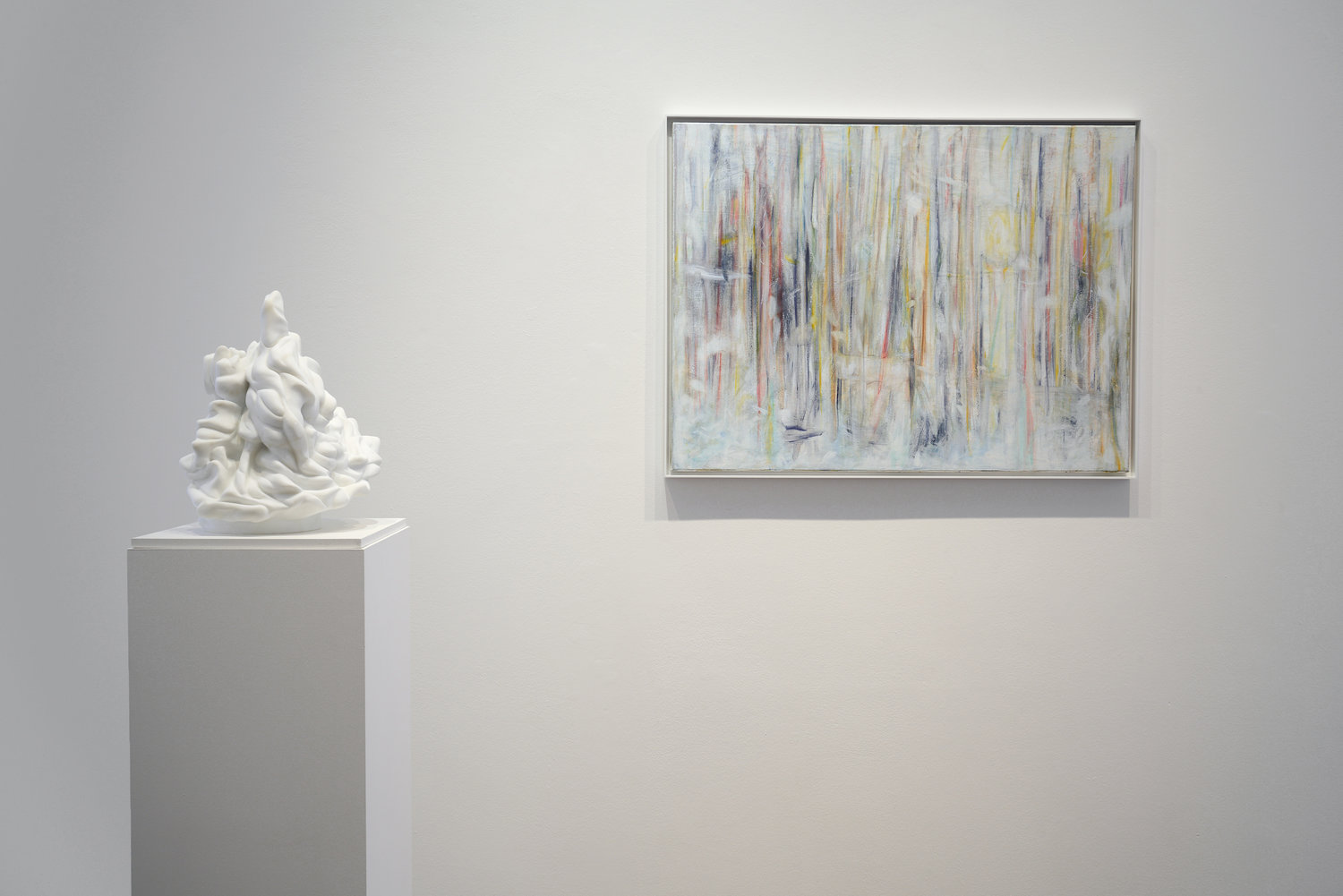 a journey from and to the edge of abstraction
text by jared green
after (private collection) 2012, antique oil on board, surface partly removed, lime wood moulding, waterwhite miroguard AR glazing, 55x40x3cm inc. frame.
As if in a waking dream, you find yourself in a country landscape, where bright sunshine burns the fabric of time. Then, a fog rolls in. Suddenly, floating in the calmness of a still sea, vague forms begin to resemble landscapes. Eventually, these landscapes collapse into the sea and an imagined reality emerges, where vibrancy, movement and surrealism speak in a cacophony of familiar yet unheard voices.
This is not a dream. This transition reflects the conceptually grounded, most definitely eccentric, development of Richard Stone's approach to painting.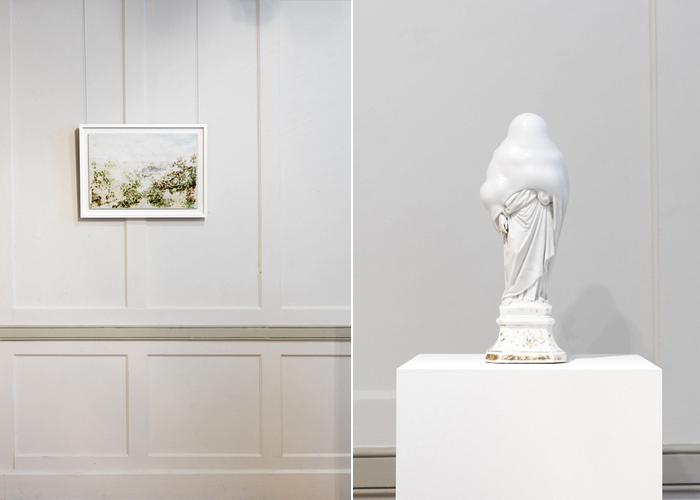 From left: mono (private collection) 2012, antique oil on board surface partly removed, lime wood moulding, waterwhite miroguard AR glazing, 55x38x3cm inc. frame.the day will come (private collection) 2012, antique parian, porcelain, wax, 30x12x10cm.
At the beginning of this journey, Stone sought the ephemeral in antique paintings which he sanded back to unearth images trapped within. In these works, released in 2012, ghosts began to drop from the sky and figures moved in and out of view. As well as creating a contemporary image by erasing an antiquity, Stone signalled the separation of landscape and figuration as problematic. He reflects, "I had to delicately balance the sensation of figure both being of, and moving in, a landscape. The process of sanding not only merges figure and landscape, at the same time, it abstracts them both".
In this moment of collapsing, Stone also created a sense of movement within stillness. In these works there may also be seen a figure, a movement, a life force, an essence. Stone was making a stand for a universality within both figure and landscape.
However, to fully reveal this force, a step deeper, into a more imagined reality emerged.
From left: only in the ruins will you be free (detail) (private collection) 2014, statuario marble, 91x61x12cm (ed. 1 + 1AP), there were fireworks in the sky (riffing on polke, turner too) (private collection) 2014, oil on antique oil paintings, lime wood mouldings, waterwhite miroguard AR glazing, 70x55x3cm each inc. frames.

While the sanded works required the viewer to imagine a completed image, Stone became more intentional in his own form-making, or perhaps form-obscuring, as he began to whitewash sanded surfaces. These were featured at Stone's exhibition gleam in 2014.
Stone, also an established sculptor, works between the two media. "There is a conversation which happens between painting and sculpture. I often work on both at the same time". This flitting means that the conceptual movement in his practice is often rapid, and that only a few paintings are created before his conceptual syntax advances.
i want to be heroic, i'm just too romantic (private collection), 2014, oil on aluminium, float mounted, aluminium frame, 51x41x4cm inc. frame.
Stone recounts, "What emerged were misty, indeterminate scenes. This touched both on my interests in the Turner-esque tradition, particularly the later unfinished works, and at the same time De Kooning's constantly re-worked surfaces that seem to exist in a continual state of becoming". In this way, Stone created abstracted landscapes which evoke a haunting, nuanced sensation of a world that exists beyond concrete reality.
waiting for the storm (unreleased work) oil on plywood panel.
Some paintings can be seen as influencing further sculpture as well as painting. The 2014 unreleased painting waiting for the storm evidences this: earlier white washed scenes were replaced with smudgy strokes which, layer upon layer, began to build scenes of sea and sky, within a darkened landscape.
studio work (linz), oil on cotton fabric.
This marks a notable turning point in Stone's expression: he introduced new, rather than obfuscating old. This transition emerged during two residences at L'atelier Salzamt in Linz, Austria, where Stone connected with painters from Europe and the US. He says, "The freedom I encountered in their work gave me a new confidence to experiment in my own, refining existing elements into a bolder style". In turn, through 2016- 2017 a new, bold series of abstract works would emerge.
another place ii (unreleased work) oil on plywood panel.
Herculean colour would offer a glimpse of a new, powerful mark making narrative. The swirling at first took hold in signs and symbols, from heraldic shields, nature emblems to simplified abstracts. These motifs had been in the background of Stone's work but through this new confidence could move to the foreground.
From left: fenix 2017, terracotta jesmonite composite, 40x25x20cm (ed. 1/3 +1AP). moonlight in the fire garden (private collection) 2017, oil, oil stick on canvas, tulip wood moulding, dark oak finish, 90x120x4cm.
In his 2017 exhibition everywhen, once whispered themes were shouted throughout the exhibition space. Birds fell from the sky, a world hope was rendered nearly lost. Yet, bursts of colour and movement also portrayed this new but unknowable hope.
Stone's previous figurative sculptural works largely disrupted historical notions of the heroic, however this freedom meant a deeper level of abstraction could emerge.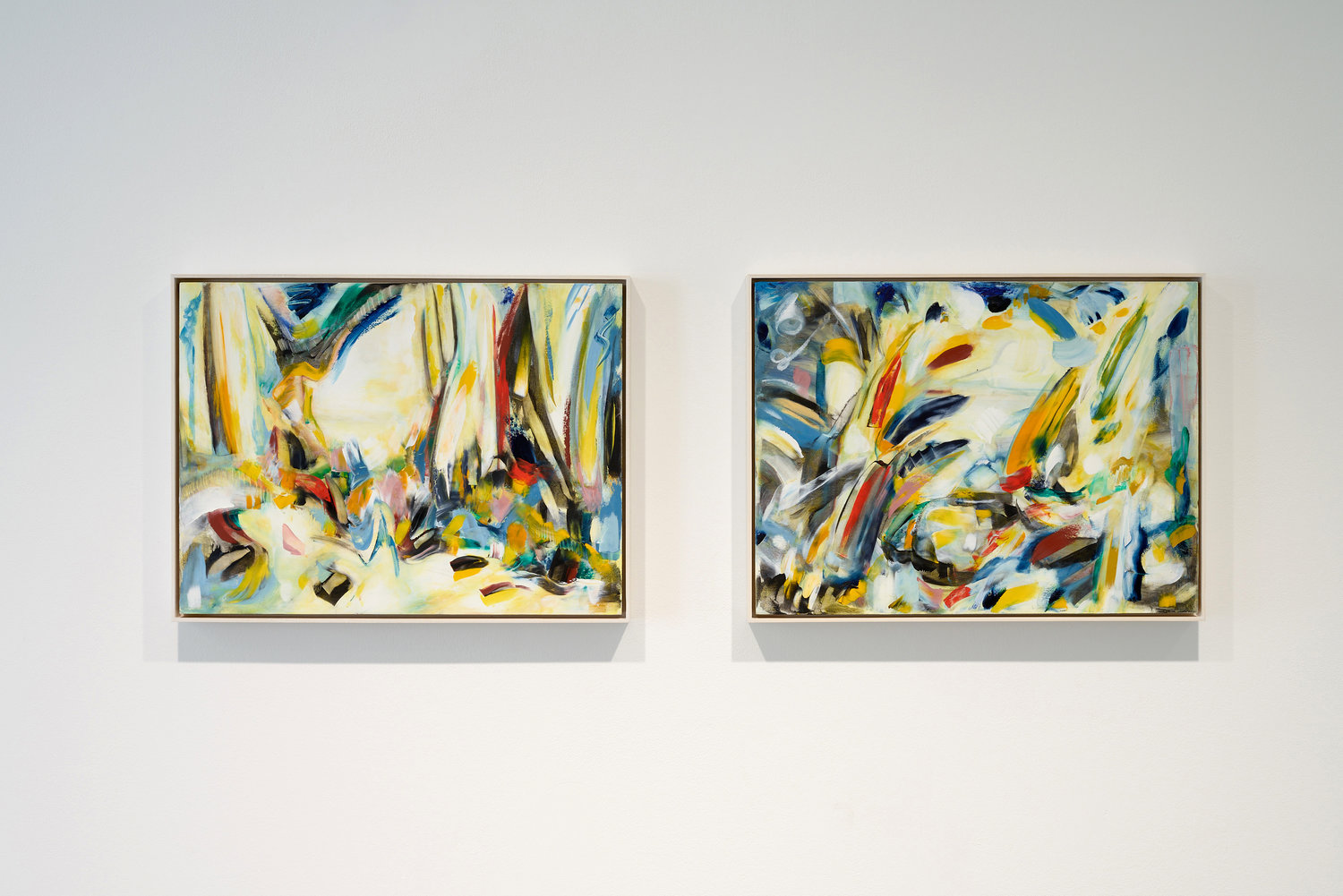 new english fire i, ii, (private collection) 2017, oil on plywood panels, tulip wood mouldings, lime white finish, 32x42x3cm each.
By drawing upon classical references, and delving deeper into his own creative processes, the narrative of transformation could also advance. Stone explains, "transformation can often be discombobulating but less so when we are steadied by an anchor. What emerged within these works was a counterforce of hope, which provides not only solace but helps us to see the richness possible in change".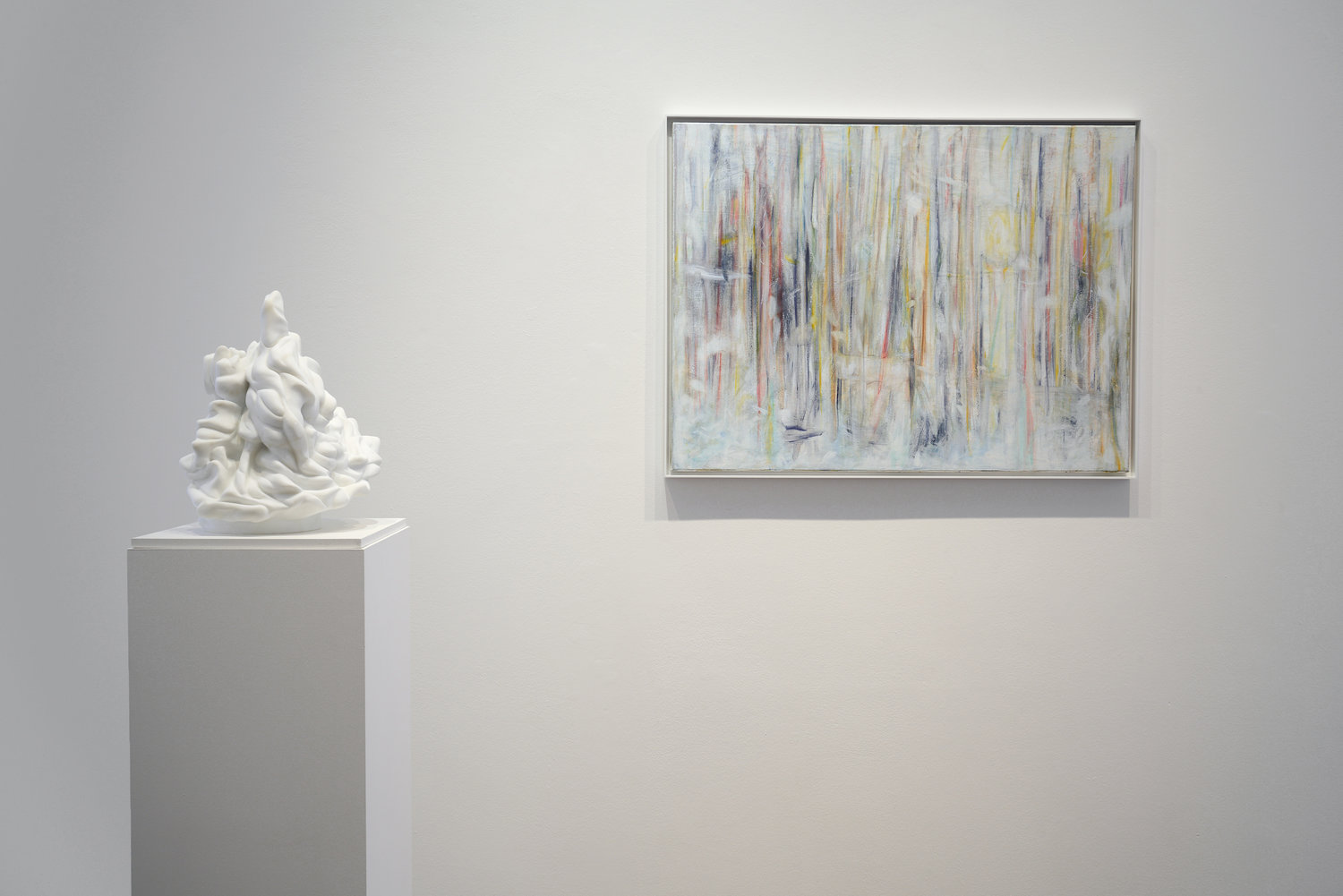 From left: i want to be a sufi dancer, (private collection) 2017, statuario marble, 35x30x30cm (unique), passing through a parlour of winter trees (private collection) 2017, oil, oil stick on linen, tulip wood moulding, white finish, 62x82x4cm.
In this sense, this obscuration helps viewers subtly connect with our collective cultural journey: neither the way through, nor the end point, is clear. Instead, we are invited to sit within the chaos, noticing what emerges and choosing whether to mourn, to hope, or to stand up.
he paint, war paint (2018) oil and oil stick on canvas, with ivy overprint, tulip wood moulding, dark oak finish, 130x160x4.5cm.
In 2018, Stone took the exploration of stillness within chaos further, releasing a series of hypnotic abstract painting at Art Brussels. Stone describes the works as "unmaking the tradition of landscape painting, by filling the canvas with figurative elements, that almost, but do not quite, dissolve into a dizzying abstraction".
There are flashes of Kandinsky, Picasso, Twombly and Pollock alongside traces of Stone's journey from and to the edge of abstraction. These multi-layered works, oscillate and sing between and within each layer. If Stone is trying to stand still in a storm, mentally he has let himself go, which has yielded a menagerie of new leitmotifs that are thrillingly contemporary.
Stone is, inherently an artist interested in depth. Depth of aesthetic complexity and depth of cultural reference. This depth, coupled with the haunting beauty of his works, enables the message to be experienced near subliminally. It is of note and perhaps reflective of Stone's talent, that despite the conceptual development of his work, beauty still shines brightly through.
Stone's most recent works are currently on view in the showroom at Kristin Hjellegjerde Berlin, Linien Str. 130, 10115, Wednesday – Saturday, 12pm - 6pm.
Upcoming & About Richard Stone - Contact Richard Stone - Follow on Instagram